Established in 1981 D&D Elevator Maintenance, Inc. has been providing best maintenance practices throughout the New York Metropolitan area for over 40 years.
Robert Schaeffer, D&D's CEO, has been with the company since its inception.  Bobby has worked his way up having performed every job within the industry.  Having worked with Tom Davies and Theodore Dettmering, the original owners of D&D, he learned installation, maintenance, repair and modernization.
In 1984 Nunzio Meccariello (past Treasurer/Owner, retired 2021) began leading the effort to build an efficient and dynamic modernization and construction department.
The company was joined in 2005 by Michael Bonardi, President, who brought with him his vast experience with large service, modernization and construction projects.
Over the years D&D has achieved several industry milestones, including the first AC gearless machine installation in North America.  This state-of-the art equipment has already given the customer over 25 years of reliable operation and remains in service today.  In 2001 we introduced our "Engineered Elevator Service Plan."  This concept was based on code requirements being adopted by the State and City of New York, complying with Section 8.6 of the A17.1 Code for elevators and escalators.
In 2002, Bobby partnered with the National Association of Elevator Contractors to develop an industry wide Certification program for the education and training of field technicians.  This program is now being used for both training and licensing by over 80 elevator companies nationwide.
In 2003, D&D obtained approval of its "Certified Elevator Technician" (CET) program from both the Federal and State Department of Labor.  D&D is currently the only merit shop Contractor in the State of New York to offer Apprenticeship training to its employees.
In 2011 the CET program was awarded accreditation by both ANSI and ISO for meeting its standards for certification programs.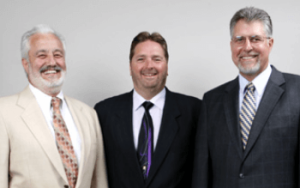 D&D Owners Left to Right: Nunzio Meccariello, Robert "Bobby" Schaeffer and Michael Bonardi